Date Published: 19-Feb-2013 | By: Lynda S White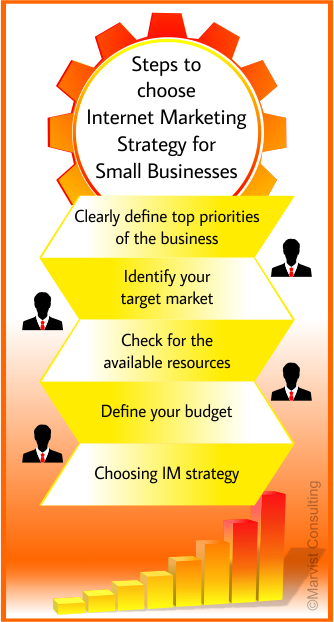 Rising effectiveness of Internet marketing (IM) has necessitated small business owners to adopt efficient techniques to promote their businesses. As an owner of small business, you can hardly afford to lose the chance to win prospective clients, and to improve the profitability of your business. Having a plan comprising Internet marketing strategies is therefore sensible, because it makes it easy for you to promote your business at affordable price within a short span of time. Such plan will come up with an optimal strategy for your business.
This article discusses how to choose an Internet marketing strategy for your small business.
Clearly define top priorities of the business
Every business has its priorities. These priorities vary in the short and long runs. May it be brand awareness, educating the market about your upcoming or existing products/services, generating more sales and revenues and the like. You have to define them properly to design an effective Internet marketing strategy which further enables your business to achieve success. Having definitive business goals and objectives, thus, makes it easy for you to plan other aspects of business.
Identify your target market
Focusing on a particular market will aid you in reaching out users, who are searching for your products/services. Therefore, research thoroughly the age, location and interest of the people and try to trace out the group which is more likely to buy your products/services. This well-defined group finally becomes your target/niche market. You can simply focus your IM efforts on this market which has more potential to turn leads into sales.
Check for the available resources
Find if your employees could be deployed for the purpose of doing Internet marketing for your business. These include content writers, web designers, SEO and link building specialists, e-mail and social media marketers. Otherwise, you need to outsource your Internet marketing to a reputed service provider.
Define your budget
Having defined your priorities, target audience, and checked for resources, you need to define your budget you want to allocate for Internet marketing. If the goal is to sell more in the short run, you need to allocate more amount to IM strategies. Conversely, if the goal is to go on steadily in the long run, you need to allocate comparatively lower amounts to the purpose.
Choosing IM strategy
Internet marketing offers a good value for your money. Each IM technique works differently across businesses. The number and type of techniques you need to choose depends on the type of your business, goals and objectives, products/services, geographic location of your clients (including prospective ones), your competitors, general market environment and the like. You need to choose a combination of multiple IM techniques, that are more likely to be optimal to your business. Significantly, you should take into account the cost of IM strategies.
Based on these factors, you can easily choose an IM strategy that could work out well for your business. Initially, the process might look complex. However, once you overcome the challenge, execution becomes easy. If you are still confused take help of IM professionals who could effectively figure out a strategy that could bring in the desired effect on your business.

You may also like to read: