Marvist Consulting's professional SEO services help businesses leverage the benefits of top rankings on search engines including increased visibility, brand presence, targeted traffic and business leads. We have tailored our expertise, processes and solutions to better address the needs of serious small and mid-sized businesses.



Marvist has a team of over 15 professional SEO specialists with decades of experience in delivering strategic results. Our principal consultant has been into Internet marketing since 1998 and is a pioneer in this field. We offer organic search engine optimization services and also have an extensive expertise with local search optimization and social media optimization in collaboration with SEO.
SEO consulting with marketing expertise is our specialty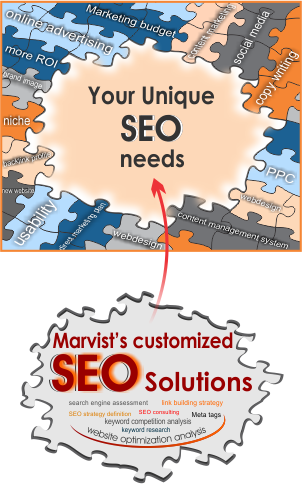 Not only do we have a depth of expertise in delivering top rankings in Search Engine Results Pages (SERPs), but we also have a broader marketing expertise. This helps us serve you better by fitting our search engine optimization strategy into your broader marketing plan.
We are marketing professionals who do search engine optimization - that means

High ROI solutions
Our marketing driven search engine optimization outlook enables us to offer solutions that address your needs in a superior manner. Our strategic outlook and outcome driven approach helps to guide you towards high ROI options. Read more about our comprehensive SEO service plans.
SEO solutions for small & mid-sized businesses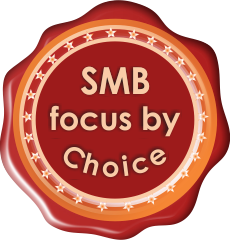 Marvist focuses on SEO solutions for SMBs by choice. We have designed solutions to address SMB needs after getting a deep understanding of their situation that we gained over the years of working with hundreds of SMBs.
Solutions for small businesses
As a small business you need the best impact with a limited budget. Among all the Internet marketing methods, search engine optimization is a very cost effective tool that enables you to establish a strong online presence with high return on investment. Marvist offers small business SEO services that help gain new customers for profitable growth.
Solutions for medium sized businesses
We understand the challenges of being a mid-sized business. We have seen many such clients like you at close quarters. Medium sized businesses like yours will have fairly large budget but need a substantial impact in order to generate enough leads to keep the business viable.
Typically most medium-sized firms are neglected by big agencies who donít put their best people on the projects of mid-sized businesses.
In digital marketing, the tools that are most suitable for medium sized businesses are different from Fortune 500 businesses.
We know that mid-sized businesses like yours need an SEO firm that respects your situation and has commitment to deliver what you need.
Professional SEO services to fit many situations and budgets
Whether yours is a new website looking to make a good online presence or an established website that is not attracting enough potential customers/leads - we can help you reach your goals.
We offer tailored solution that can easily match-up with the ever changing needs of your business.
SEO investment required to get top search engine rankings will vary based on your website current credentials and your industry competitive situation.
Our typical project engagement period will be 7 months and our pricing starts out at an average monthly budget of $450 per month. Based on your requirement, we can customize our services to provide scaled up solutions for clients needing more intense work.
Reasons to choose Marvist as your preferred SEO firm
Consistent track record of getting top search engine rankings
Successfully executed over 900 projects
Rated 4.9 out of 5 after 150+ customer reviews (feedback managed by a third party)
15+ search engine optimization expert professionals who are looking forward to work with you to deliver the benefits of search engine rankings to your business.
Our strategies future proof your websites from Algorithm updates.
We try to work both within the letter and spirit of search engine guidelines.

Request a free quote!
Submit your website details and we will provide a no obligation FREE quote for our professional SEO services! Or call us at (877)-767-3071.