Date Published: 31-May-2013 | By: Pete Dubaka
SEO requires specialized skills and increasingly effective campaigns are done mostly by multiple people. There may be a few who do it alone, but it is rare and difficult to do it alone, both for the person and for their customers.
Single person can do a High Quality SEO campaign, but it is very tough and very rough
Imagine during an update, this person is not available for days, if not weeks. During such time, the SEO campaign gets badly affected and existing project executables get delayed. Or this person works double duty doing the project as well as keeping abreast with what is happening. Needless, to say this is hard and not sustainable.
Over the years, SEO has evolved and it's become more complex and multi-skilled
Earlier SEO was not this difficult. It initially involved doing only on-page work. So there were these webmasters or website builders who were specialized in SEO and did many things on the site to enable rankings. Then, with Google coming in the picture, things moved towards link building and the expertise became more about building links and less about on-page. First, Google started moving away from PageRank and more towards trust. This added another complexity and skills that needed to change. Then came Panda and content became more important. Somewhere down the line social indicators became important. Then came, Penguin and bad links, and over optimization became an issue. Now things are moving to more natural methods.
Getting ranked has become complex but search engines are used extensively for purchasing
As you can see there are a lot of changes. This should also give an idea of what it entails in order to attempt to do SEO for your website. There may be a lot of changes that have happened on the Internet in the past decade. But potential customers continue to search and look for providers on the Internet. Maybe not for every mundane item, I would guess that people would not search for a store to find milk, eggs and bread. OK, maybe not after you settle into your new home or know enough about the neighborhood you work. However, as the product or service to be purchased becomes more complex, the importance of search in finding a provider or manufacturer or a store where you can find the product becomes more important.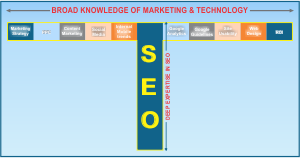 SEO and multi-skilling – A little overview
Today, high quality SEO work involves not just being competent with various aspects of SEO. It also involves being able to work with other professionals, who work in related areas – Marketing professionals, Website developers and Webmasters. It all looks like a tall order and it really is. Unfortunately, SEO is a hybrid skill and requires a person to be aware of various domains spread across IT, marketing and business practices.
SEO Consultants help you understand it easily, but it requires multi-disciplinary perspective
Sure a good SEO Professional can make it easy for someone from outside SEO field to understand the nitty-gritty and explain in layman terms. An SEO consultant may help C-Level executives and seasoned professionals from other related areas to understand what they need to do at their end. However, the profession itself is complex. Just consider these facts:
Google is a large database, so you need to understand about databases and how they work.
SEO is a part of marketing and it is a way of lead generation, and you need to tie the SEO with the rest of the marketing process, i.e., prospect engagement and lead conversion to the next stage of the sales process till it culminates into a sale.
SEO professionals need to work closely with the creative groups, i.e., the content creative team and the graphic creative team.
SEO experts need to know how to work with the website developers and the webmasters – this involves understanding how they work, their lingo and their processes and tying up with them.
SEO professional needs to be a master in analyzing data. After all this is digital marketing and there is a lot of data to sieve through!
SEO professionals need to be hands-on, they need to send detailed recommendations to the web developers and the web designers, so that they can integrate SEO best practices into the site design and site coding.
Finally, SEO consultants need to have strategic thinking and help the client choose the right goals and deliver high ROI results.
Well, there is a lot to expect from SEO experts, professionals and consultants and the good ones really deliver on them, because this is a multi-disciplinary skill. You need to know a lot about SEO and know enough about other areas to be able to work with the other experts.
T-skills concept about knowledge workers helps understand SEO experts
There is a management skill called T-skills that has come to prominence recently and this appropriately describes what is required to be a competent SEO professional or a good SEO consultant. You need to have in-depth understanding of SEO and know a lot about the processes, temperaments and mindsets of other professionals. Then you can leverage your SEO skills and make them understandable to the other stake holders to get a high quality SEO campaign in place.
Good SEO works and gets the cash registers ringing – this remains the reason to do SEO
Once a good SEO campaign is executed – potential customers find your website, they appreciate how the website has been made it easy for them to move the purchase forward by providing information about a product or service in meaningful manner and guide the potential customers to the next step in moving towards a purchase.
Finally, there are a lot of changes happening in SEO in the last year or so. Honestly, it adds a lot of anxiety across the ecosystem – clients, other service providers and SEO professionals themselves. But that is only in the short-run. In the long run, what we need to understand is that, it is in the interest of the buyers and probably in the interest of all the stake holders – SEO professionals, web designers, website developers and website administrators as well as clients. If the search engine results are helpful to the visitors in finding a good and relevant provider of the product or service, more and more people will use the search engines. So the method remains useful and relevant to customers. Other alternatively would be visitors getting disappointed with the results on the search engines and move elsewhere to find information. Well that makes the industry into a declining industry. Who wants to be involved with something that nobody uses or respects?
You may also like to read: