Date Published: 3-Sep-2013 | Author: Nancy R Jones
Keyword research involves generating, analyzing and using the historical data of keywords used by Web surfers to improve the efficiency and effectiveness of Internet marketing. Approximately 5.134 billion searches are conducted per day by users on Google alone to find information, products and services they need. Good keyword research helps potential audiences find what they are looking for, using keywords related to a particular type of product, service or business. It brings qualified traffic to a website.
Importance of choosing relevant keywords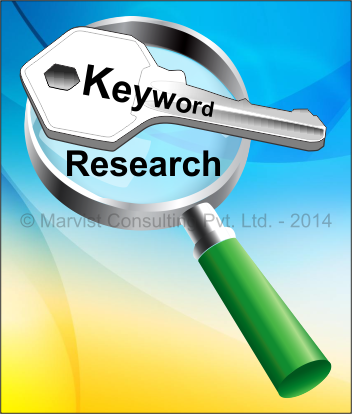 The goal of Internet marketing strategy is that your potential customers should be able to find your website using keywords most relevant to your product/service/business.
Selection of keywords relevant to your business is the first step in a successful Internet marketing campaign. The goal of Internet marketing is not about directing huge traffic to your website, but to draw potential customers who are interested in purchasing your products and services. Using keywords that are used by your prospective customers will help you achieve your marketing objectives even if your overall website traffic is low. The ultimate aim is to increase your sales and not to attract visitors who are not likely to become buyers.
Think like your target customers while choosing relevant keywords for your website
While choosing target keywords, it is very important to keep yourself in the shoes of your prospective customers and think the keywords they would search to find a business like yours. Make sure to target keywords that are relevant to your website. From the recent algorithm updates, it is very clear that Google's aim is to display more relevant and quality websites on the top of the SERP.
Know the user intention and shape your online strategy:
An important element of the keyword strategy is to identify your prospective customers using the keywords entered by them while searching online. Then further, you can identify someone who is more likely to buy using the words in the key phrase. The words in the key-phrase can communicate the intention of the user for an action like purchase, get a quote, etc.
Broadly we can classify user intentions into three categories
1. Action intent: Some words in the key-phrase used for search communicate an action intention of the user i.e., to do some activity in the website like purchase a product or service, download, play, etc.
Examples:
Purchase – Buy iPhone online
Download – Firefox download
Play – Play free online games

2. Information intent: The user is seeking information and wants to know more about something. For example: the user uses keywords like 'Samsung galaxy s4 review, 'adobe reader mobile app features' to acquire some information about the product.
3. Navigation intent: The user wants to reach to a particular website or page. The intention of the user is to navigate to a particular website or web page by using keywords like, 'YouTube', 'Twitter', 'Gmail login', 'Facebook', etc. The user expects to find websites URL that is relevant to their search.
It is very important to choose keywords that are relevant to your website to find people most likely to buy or use your service. It is important to identify keywords that most of your customers use in order to get online marketing success. An analysis of the words in the key-phrase can communicate user intention, and will further help you identify keywords that have the ability to generate warm leads, i.e. customers are more likely to buy as well as buy more quickly. Using these simple steps can improve the effectiveness of your online marketing campaign.
You may also like to read:
Keyword Research and Its Importance in Internet Marketing