Date Published: 9-Sept-2014 | By: Kerry K Robinson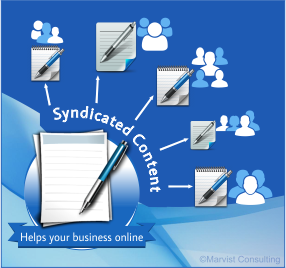 Many small business owners have some wrong perceptions on content syndication – many times, due to ignorance and lack of proper guidance. Content syndication is a process of distributing the content (mostly, articles from the website) in third party websites.
By writing great articles on your subject and publishing them in your website, you will build credibility as a subject matter expert with the visitors of your website. And since you will be associated with your business website, the credibility transfers to your business website. By providing informational articles, addressing your customers' queries and helping them make wise decisions, you will surely build trust as a person to look at when they are in a need.
Misconceptions on content syndication
While there is no disagreement on the above, there is a lot of ignorance or confusion when it comes to using the same content for syndication.
Many are unaware of this effective web promotion activity.
Some think that content syndication attracts duplicate content penalty from Google.
Some even think that they will lose traffic to other sites where the content is going to be published.
Some consider it to be a costly digital marketing method.
So, I thought it is worth writing an article on this topic to dispel the confusion and provide clarity. Let's start with the benefits of content syndication.
Visibility among the target audience
First things first – no matter how great content you write, it is of no use unless you put it in front of the people seeking it. If you write a great article and publish it 'only' in your site, the efforts you have put in writing and the results it yields do not match. Your content will reach a very limited target audience and this will not serve your purpose. Just 'publish in the website and pray for traffic' strategy won't work.
You have to go out and distribute your content on multiple websites relevant to your industry, the websites where people seek the kind of information you provide. Small business owners like you have good subject matter expertise. All you need to do is write and publish at the right places so that your content will have more chances of being visible to a large targeted audience.
Earn quality traffic
As an added advantage, you will get quality traffic to your website. Today, consumers want to read before they purchase. If people are reading your article on a third party website relevant to your website, they are obviously interested to know about the products/services you offer.
One thing you need to remember here is not to be greedy and publish your article everywhere to get links to your site. Strictly, publish your articles in websites relevant to your industry or places where people are looking for the kind of information you offer.
Earn links
If you publish your article only in your website, you will hardly gain any backlinks to your website – unless yours is already a popular website. By publishing your article on a third party website relevant to your industry, you will get a link or two back to your website.
Generally, third party websites where you publish your article offer you to link the article back to your website – after all their audiences will want to know about you (the author) and the business you are associated with. This way, links get created to your website and this is very crucial for your website's rankings. Google itself says, "Links help our crawlers find your site and can give your site greater visibility in our search results." It also recently confirmed that search results without considering backlinks are worse.
Earn natural links
One more important thing you need to observe here is that you are getting the links 'naturally'. You are not paying money or using some shady tactics to get links. You actually are helping visitors of some websites by providing good content and in the process earning links back to your website. In Google's words, "Natural links to your site develop as part of the dynamic nature of the web when other sites find your content valuable and think it would be helpful for their visitors."
Now let's dispel the misconceptions on content syndication.
Content syndication is NOT duplicating content
What about duplicate content issue? Well, Google doesn't consider same content published in multiple sites as duplicate till the time the content rights are with the original author. In simple terms, if you put your byline (author bio) in other websites, it wouldn't be an issue.
Also, if you don't want to give away your expertise (or your insights) to a third party website, you can make a summary of your article (the one published in your website) and use the modified/summarized article for syndication.
You won't lose traffic to other sites
Finally, this is for those who think they will lose traffic to other websites where they publish their articles. If you are thinking this way, you are surely thinking narrowly.
Search engines generally identify similar results and filter out all except for the original one. They look at the things like which version got published first and which one has more backlinks pointing towards it to identify the original article. So, even if you publish your article in multiple sites, your site will rank better because it got published in your website first and all the places where you published the article are pointing back to your website. The advantage here is, by reaching out to more websites, your posts will be seen by all their audiences and you might gain some of those readers for your website.
Take help of web promotion specialists
While content syndication requires efforts – identifying relevant websites and categories, publishing and maintaining relationships with webmasters of multiple websites – the benefits it offers in terms of attracting new potential customers, building brand awareness and search engine rankings can't be ignored. It is one of the cost-effective web promotion methods.
We suggest you to take help of professionals in this area who can take care of content syndication part so you can stay focused on creating insightful articles and taking care of your core business activities. Some professional companies like Marvist even help you with drafting, editing and proofing the articles and make them suitable for content syndication.
Interested to promote your business online using this marketing option? We will be glad to help you.

You may also like to read: