Date Published: 7-Jun-2014 | By: Shane K Morgan
Social media marketing has gained a lot of importance in the present business world. Due to rapid increase in the number of social media users, many believe that social media marketing should be given importance. According to Social Media Today, global social media users have risen by 18% in 2013 and one in every four people on the planet are now present on any social media website.
Today, there are as many as 200 social media networking platforms. Of them, we discuss in this article six popular platforms that can be useful for your business.
1. Google+
Google+ is the fastest growing social media website. According to Econsultancy, it had 1.15 billion users in 2013 compared to 359 million in 2012.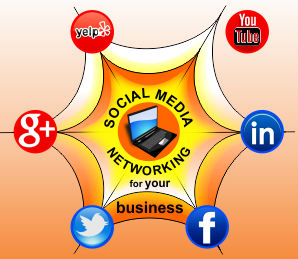 Google+ enables you to identify and build a network of targeted audiences and customers (Google circles) and share information with them about your business and products/services. This helps your business keep your potential customers engaged and this in turn helps you convert them into leads over a period of time.
You can build your credibility and authority by sharing authoritative and engaging content regularly on Google+. This may improve your 'Authorship Rank' on Google and may help you boost search engine rankings because Google is integrating its products like search engine, Gmail and YouTube to Google+.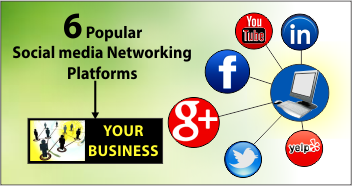 2. Facebook (FB)
Today, Facebook is the most popular social media marketing platform with more than 757 million daily active users (Jan 2014, DMR Digital Marketing Rambling). It is an effective and economical social media marketing platform for businesses.
It is a good platform to reach out to a large number of customers and prospects and engage them. According to Social Media Today, 52% of marketers have found customers via Facebook in 2013. Facebook facilitates two-way communication between businesses and their audiences and helps in building a positive customer relationship and grow loyal customer base.
3. Twitter
Twitter is another major social media platform with 232 million monthly active users as of November, 2013 (Source: Econsultancy).
Twitter facilitates micro-blogging – you can publish content on developments in business, changes in industry and information about new and existing products/services using as few as 140 characters. You could include images/pictures and relevant links to make it more effective.
Your business' Twitter followers could be helpful to your business. Studies by Market Probe International show that 86% followers of SMBs on Twitter are likely to visit SMBs on getting recommendations on their product and services.
4. LinkedIn
With more than 277 million members (DMR Digital Marketing Rambling) with two joining every second in their network, LinkedIn will help your business' professional networking. LinkedIn is a platform related mainly to professionals, who are more likely to be there to get connected for business purposes.
LinkedIn can help you find suitable partners if you need them in your niche. You could check their professional/business profiles on the platform. Further, if you are looking for new hires, LinkedIn has a list of such applicants. You could choose according your business' needs. LinkedIn facilitates coordination among businesses if they wish to do so.
Through LinkedIn, you can also analyze businesses related to your product/services, your competitors, current or future business trends, etc.
5. YouTube
YouTube focuses on advertising your business and its product/service on the Internet to large number of audiences. Estimates show that YouTube gets more than one billion unique visitors a month. Every minute, close to 100 hours of video is uploaded, and more than six billion hours of video is watched monthly. This demonstrates the popularity of the channel.
YouTube helps visual and audio presentation of your product/services. It is a cost-effective way of advertising. Videos are more engaging than any other form of presenting your message on any topic. In addition, it is likely to help your brand get maximum exposure.
6. Yelp
Yelp focuses on local businesses. Yelp can help increase the awareness of your audience on your business. Yelp reviews furnish good insights to consumers on where they purchase, and what they should purchase. According to a research by Merchant Warehouse, 93% of people who research on review sites purchase at the business they search online.
Research by the same source shows that 77% of small businesses using Yelp have been influenced in dealing with issues and complaints with regard to customer affairs. Thus, positive Yelp reviews could enhance your business's credibility.
Getting reviewed on Yelp helps businesses to judge strengths and weaknesses, because the review is based on real time customer experience. This helps businesses plan their strategies accordingly. Likewise, negative Yelp reviews help businesses to understand their customers' perception on the businesses and their products/services, and help take the necessary corrective measures.