Date Published: 15-Oct-2012 | By: Kerry K Robinson
Content is one of the primary aspects that search engines consider while ranking a website in search results. The recent update, Panda, released by Google, is a perfect example of how important the search engines consider the content to be.
Google judges content considering diverse aspects of content such as relevancy, quality, informative, freshness and uniqueness. One is to learn that, these norms are meant for the benefit of the user and not the search engine itself.
As quality of the content is one of the yardsticks to measure the reliability of the business, make sure that you adhere to certain aspects of the content. Thus, a piece of good content should have the following features: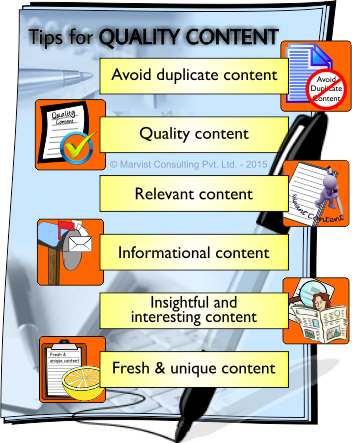 Avoid duplicate content:
While ranking websites, search engines like Google use unique techniques that penalize duplicate, repeating and shallow content. Overtime, these websites are removed from the Internet. Hence it is significant that you refrain from copying information from other websites. Also, make sure that you don't have many pages with same or similar content in your website.
Quality content:
Another aspect of good quality content is that, it should not have any grammatical, spelling or factual errors. Also, the content should have high usability and readability. Usability of content means to present the content in an organized fashion and substantiated by examples, wherever required. Readability, on the other hand, aids the reader in quick and easy comprehending of the content. The faster we read a piece of content and comprehend, the more readability it has. The content should not be presented by a complex text and it should not be too verbose because the user may find it hard to grasp.
So as to avoid all these issues, a business should make sure that the content of its website is edited well by paying attention to every detail of the content.
Relevant content:
The content you are planning to upload should be related to the products/services you offer. The content should be developed by conducting a proper keyword research, which helps you know the search terms that are being used by your target audience to know your business. Having the same keywords in your content will make the content relevant for the audience looking for the info on the website.
Usable, information-rich, direct content:
As the objective is to promote your products/services, the content should help your target audience know how your business benefits them. The content should give comprehensive information about your products/services so as to meet the needs of your audience – write on topics that your audiences are actually looking for or need to know, and not on topics that might rank well on search engines. The content should be able to make them trust your business. Keep the information short, substantial, usable and specific to your business.
Insightful and interesting content:
Insightful and engaging content on your website gives competitive edge to your business. Post articles that are written by industry experts, that are authoritative and have substantial value when compared to other websites on the same topic. Give solid message while also giving information and details of your products/services.
Also, make your content interesting to read. Non-engaging content drives away the visitors outright. Present your articles in an interesting way – add pictures, graphs, videos, etc. wherever needed. Incorporate interactive features like premium calculators (as in websites of life and general insurance brokers, mutual funds etc), 3D views (as in case of automotive websites), comments column, chat options – all these features go a long way to impact the user in favor of the products/services.
Fresh and unique content:
The content should be fresh and unique. 'Fresh' under this context refers to currentness of the content, that is, how frequently do you update content on the website, how often do you come up with new blog or reports, etc. These all reflect how updated you are on the industry trends and changing customer needs, which gives a positive impression of your business. Also, having fresh content helps in adding new pages related to your keywords, which in turn helps in giving better SEO rankings.
Having unique content is also another prerequisite of a good quality website. Unique content may refer to original reports, analysis and research done by your business experts. The content should not match with that of other website content. This increases credibility and reliability of your website.
Good content helps in the long run
Steady and sincere efforts to create good content will fetch good and long lasting results for your business. It would, in the long run improve the credibility of your website and consequently your business. Whereas, low quality content not only negatively impacts the search engine rankings but also the trust-worthiness of the business.
Good content on your website plays vital role to make your website rank higher. It enhances the overall user experience, benefits overall engagement, increases loyalty and conversions for your business.

You may also like to read: