Date Published: 26-Jun-2013 | Author: Lynda S White
Today, people spend much of their time on social networking sites like Facebook, Twitter, Instagram, Pinterest, etc. A recent survey conducted by Experian shows that Americans spend 16 minutes of every hour online on social networking sites. This clearly shows that social media is gaining popularity and if you want your business website to do well, you need to write content that gets social signals.
Writing content for your business website is an important component and is part of social media strategy that helps in promoting your business.
Social media integrated with content marketing
Content marketing is already a tried and tested online strategy that helps businesses establish credibility, build trust and naturally attract target audience. When integrated with social media it delivers more positive results as it enables users to 'share' and 'like' the content.
How to write content that gets social signals?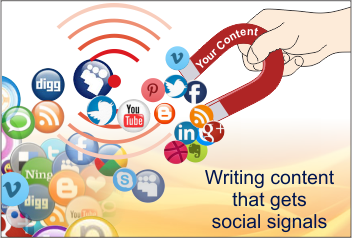 Having great content will help you get some shares, and improves your brand name and website authority. Let's take a look at a few tips on how to write content that attracts social signals.
Content for your target audience: If you want to promote your brand using social media, you should focus on creating content only for your target audience. You need to find out the interests, needs, search patterns and social behaviors of your target audience in order to create relevant content. Once your target audience identifies you as a reliable and dependable source of information, they keep following you and will share your content among similar groups that look for such kind of information. In this way, you will be able to build an online community for your brand using social media.
Easily consumable: To attract social media users and to encourage them to share your content, make sure your content is consumable. People on social media are used to small pieces of information, quick updates, etc., which takes less time to read. So, if you want people to like your content, use small paragraphs, meaningful sub-heads, bullet points, images, bolded text, etc. It helps readers grasp the main takeaways quickly and they are more likely to share it using social media.
Non promotional: Very few business websites show interest in sharing informational or educational content. Many of them just write content about their products or business. One thing you need to remember is people share content only when it is useful for them. So, while writing content, make sure you are not writing about what you do, instead write on what you know. Use your expertise to clear your audience's confusion, answer their questions and more importantly, educate them.
Content that helps in the buying cycle: The same piece of content doesn't serve all kinds of users. Different customers have different requirements. So, focus on all the aspects of buying cycle, that typically include creating awareness among the target audience, generating interest, helping in purchase process and retaining customers. Your content should help the customer's buying cycle and in this way you will develop a relationship with the customer.
Social media buttons: Include social media buttons at the end of all the articles/blogs; it will make it easy for your audience to quickly share your content. Also try to display the number of shares, likes or tweets that in turn persuades people to read the article.
Engage: Customer engagement happens only when you respond to your audiences comments. When people comment on your articles respond to them in order to make them feel that their comments are valued. Make it a regular habit to check the comments and make sure that you are replying to comments.
If you follow the above mentioned things while writing, your content is more likely to attract social signals and your business gets promoted easily. Even search engines consider social media weightage when ranking the websites. So why late, start creating content that gets social signals.

You may also like to read: