Books on Growing Your Small and Medium Businesses
Growing a Business
~ Paul Hawken
About the book and how it helps your business growth: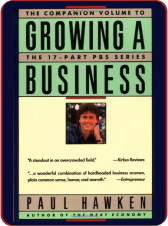 This is a substantial book, where author shares his valuable insights on growing business – "the term growing implies paying attention to the world around you, learning from others and changing yourself. This book was published more than 20 years ago, before the computer and internet age. But the message he has given is timeless and is applicable even to today's business.
This book has 12 chapters as follows:
First chapter – "Something you live to do", he shared experiences of his first business – how he started it and what he learned from it (i.e. common mistakes a business owner do)

Second chapter – "Be careful, you may succeed" - He says that there are no shortcuts and business tests for business success. All you need to do is hard-work and face the challenges.

Third chapter - "Small, fat and happy" - He says an organization size is no longer an advantage to a business. Small business can make easy decision and change faster than being a big business.

Fourth chapter - "If it's a good idea, it's too late" - He shares experiences of his horticulture business – on growing.

Fifth chapter - "The art of the incremental" - Here he describes the business elements. And the importance of writing a business plan.

Sixth chapter - "The company your keep" - Here he talks about business structure.

Seventh chapter - "Money" - Here he suggests not to borrow money during early stages of business. He explained it beautifully by giving his own business experience.

Eighth chapter - "The lemonade stand" - Here he describes on what it takes to become a successful business.

Ninth chapter - "If you meet the Buddha on the road, sell him – He describes on permission marketing strategy when dealing with the customers.

Tenth chapter - "You are the customer, you are the company" - He talks on how to treat customers.

Eleventh chapter - "In good company" - He describes on how to treat employees. (i.e. making employees to feel that they are working for their own company)

Twelfth chapter - "The verger" - He describes the importance of elemental characteristics that a successful business should posses. He explained this with the verger story.
This book works like a guide for growing your business to the next level.
About the author: Paul Hawken is an environmentalist, journalist, entrepreneur and a best-selling author. He has authored seven books - The Magic of Findhorn (1975), The Next Economy (1983), Growing a Business (1987), and The Ecology of Commerce (1993), and Blessed Unrest (2007), Natural Capitalism (1999). And all his books where published in over 50 countries in 29 languages. Most of his books covers on business, activism and sustainable practices.
Prominent Review:
"Growing a Business is a highly readable....its ideas on doing business deserve widespread circulation, discussion and recognition." ~ San Francisco Chronicle

Books: