Books on Growing Your Small and Medium Businesses
The Pumpkin Plan: A Simple Strategy to Grow a Remarkable Business in Any Field
~ Mike Michalowicz
Purpose: This is an inspirational book written for SMB owners who desire to grow their businesses
Inspiration for the book: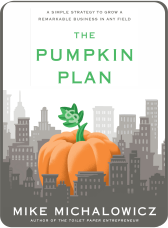 Mike got inspired with a local news article on "How to grow GIGUNDA Pumpkins." This article is all about the strategies of a local farmer who dedicates his whole life in growing a giant pumpkin. And those strategies are planting promising seeds, watering them, as they grow - weed out the damaged or smashed pumpkins, identifying the stronger and faster growing pumpkins, focusing on the giant pumpkins etc. After reading this article, he realized that the same pumpkin plan can be applied for growing his business. And this transforms him into the leader of a multimillion business.
About the book and how it helps for business growth: In this book, Mike presents the most promising strategies that will help you to grow your business.
Plant the right seeds: Don't dump yourself with all the strategies to impress your customers. Instead, try to figure out what you are best at and keep a complete focus on it in building your business.

Weed out the losers: In a pumpkin field, rotten ones stunt the growth of the healthy ones. The same applies to customers. Identify those customers who add value to your business and then get rid of all your bad customers.

Nurture the winners: After identifying who the value-adding customers are, take the privilege of providing the best service. Understand their core needs and make an effort to fulfill them.
This is an actionable book, curated with unconventional strategies of growing business that helps all business owners who desire to take their business to the next level.
About the author: Mike Michalowicz is a lecturer, entrepreneur and an author of business books "The Pumpkin Plan" and "The Toilet Paper Entrepreneur. He was a former columnist for the Wall Street Journal's small business Shortcut series and he is a columnist for American Express's Open Forum series and a regular contributor to Entrepreneur Magazine. And he is also a well-known television personality.
Prominent Reviews on this book:
"Another great read from Mike Michalowicz! Mike's off-the-cuff sense of humor ensures that The Pumpkin Plan is a book that entrepreneurs should read for years to come." — GUY KAWASAKI, author of Enchantment and The Art of the Start

"Every page, every chapter, as I read this book, I asked myself, 'Michael E. Gerber, how come YOU didn't think of that?' Just remarkable! Just absolutely a remarkable book. A pumpkin! Who would have thought? Every one of you—entrepreneurs, business owners—read it! Do it now!" ~ MICHAEL GERBER, author of The E-Myth and creator of The E-Myth Evolution

Books: