Books on Growing Your Small and Medium Businesses
Mastering the Rockefeller Habits: What You Must Do to Increase the Value of Your Growing Firm
~ Verne Harnish
Theme of the book: How to increase the value of your growing business.
About the book and how it helps your business growth: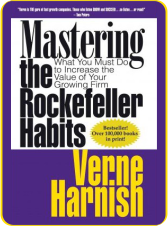 Mastering the Rockefeller Habits book was endorsed by over hundred CEO's of mid-sized firms who have put Verne's tools to work and got benefited. In the opening of the book, you can find their testimonials. This book was translated into many languages such as Chinese, Japanese, Korean, Russian, Serbian, Polish, Dutch, German and Spanish.
In this book, Verne addresses three core Rockefeller principles or habits:
Priorities: Does your company's objective have Top 5 priorities for the year and the quarter and a clear Top 1 priority? Does every employee in your company have priorities on their work, aligning with the company's priorities?

Data: Does your company have daily and weekly information, to monitor how your business is running. Does every employee and every team have daily and weekly metric to monitor the productivity?

Rhythm:

Does your company have

a

meeting structure - daily, weekly, monthly, quarterly and annually to maintain alignment and drive accountability?
This is an indispensable book packed with series of tools that helps in managing the business effectively - how to structure your business growth, what to expect while you are growing, what are the common problems that arises while you are growing, how to make smart strategic decisions and how to make everyone to align and account to these decisions and so on.
About the author: Verne Harnish is the founder of world's well-known Entrepreneurs' Organization (EO) – Young Entrepreneurs' Organization (YEO) and the Association of collegiate Entrepreneurs (ACE). He is also the founder and CEO of Gazelles (Coaching firm), which serves as an outsourced corporate university of mid-sized companies and also hosts business experts like Jim collins, Jack Stack and others.
He authored many books like The Greatest Business Decisions of All Time, Mastering the Rockefeller Habits, Four Key Decisions to Maximize Profit and Revenue, The Right Way to Give Employees Feedback.
Prominent Reviews on the books:
"Verne is the guru of fast growth companies. Those who listen GROW and SUCCEED...so listen...or read!" ~

Tom Peters

"Verne is the undisputed expert in helping entrepreneurs grow their firms...and now he's brought you his powerful ideas in book form." - Ted Leonsis, Vice Chair, AOL Owner, Washington Capitals

"This is the field book for any high-growth business." - Patrick Lencioni, author, The Five Temptations of a CEO, and Obsessions of an Extraordinary Executive
This book is available in Paperback, Hardcover and Kindle.

Books: