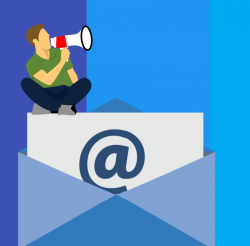 Email marketing is one of the effective and efficient ways to add sales and, maintain a connect with existing customers. It is also the most direct way to acquire new leads, convert potential prospects to customers, and retain current ones. Email marketing is a digital marketing strategy that has proven to be highly effective when used correctly and sensibly.
Choosing of the right email marketing tool is important for a good digital marketing program. Right email marketing software will help in many ways – it will build credibility for your business with high quality templates, it simplifies your email marketing process and allows your emails to reach the inbox of your prospects/customers. Let's look at some of the top-rated email marketing service providers.
MailChimp
MailChimp is founded in Georgia USA in 2001. MailChimp has the highest market share in the email industry, supporting more than 500,000 websites, with more than 17 million customers. In fact, businesses using MailChimp in more than 175 different countries send more than 6 billion emails every week. It is most commonly used tool in the US.
MailChimp provides forever free plan for up to 2,000 contacts with 12,000 emails per month. In the paid plan you get features like send-time optimization, advanced segmentation, multi-variate testing, and multi-step custom outflow, etc. Their paid plan starts from $10 per month for 50,000 contacts and the price increases with the number of contacts.
Constant Contact
Constant Contact is founded in Massachusetts, USA in 1995. The Company holds more than 600,000 customers across the world. Constant contact is the second most commonly used software in the US after MailChimp. Starting from online training, they also offer in-person live seminars across the United States. This allows not only to small businesses to learn quickly about the basics of email marketing but also to grow your business.
Constant Contacts has a 60-day free trial. After the trial period, the pricing starts as low as $5/month. Their paid plans come with powerful features like email automation, surveys & polls, coupons, online donations, list segmentation, automated email behavioural series, and subject line A/B testing which helps you to reach targeted emails to maximize your open rate.
Campaign Monitor
Campaign monitor founded in Nashville, USA in 2004. It holds more than 200,000 customers worldwide. This software allows you to capture data to an online mailing list, manage it and, send HTML e-newsletter to it.
It doesn't provide free service as others do. The pricing starts from $9 and goes up to $699 per month. The price depends on how many people you are sending the email campaign. In its premier plan, it has features like advanced link tracking, insight analytics suite, customized automation solutions through template designing, content creation, social sharing, A/B testing and many more features.
Mailjet
Mailjet is founded in France in 2010, serves more than 100,000 customers worldwide in 156 countries, sending over 1 billion emails every month. Mailjet does provide a precise business and transactional email distribution, and it also will give you a special IP address throughout which you can handle all the contact management operations.
It provides free plan forever with 6,000 mails per month with unlimited contacts if you want the advanced features the pricing starts from $8 to depending on how many emails you want to send. It also gives advanced email editor and reporting with full API access. It has features like robust infrastructure, custom on boarding and migration, A/B testing and more in its paid plan.
Aweber
Aweber is one of the oldest email marketing service providers founded in Chalfont, USA in 1998. Aweber offers a wide range of tools for SMB businesses to manage and use effectively their email marketing. Provides features like autoresponders, solid performance, and an array of quality features.
Aweber offers a 30-day free trial. After that, their pricing starts from $19/month to $149 depending on the number of subscribers. You can also sign-up for quarterly or annual plans to save even more. The features are the same for all the plans, it provides hundreds of customizable, mobile-responsive email templates that you can use to create your marketing emails.
Email marketing Tools Conclusion
Email marketing is a great way to grow your business and it's important to understand that a lot of your success with email marketing depends entirely on the email service provider that you choose because they are responsible that your emails get delivered on time. So, evaluate the various tools by using their free trial service and sent enough test mails to understand the features and learn how to make an attractive template before sending the campaign to your prospects.
Date of research and publishing: 28 January 2020