Date Published: 9-Jul-13 | Author: Nancy Jones
"Good writers are those who keep the language efficient. That is to say, keep it accurate, keep it clear." ~ Ezra Pound
Do you have a website? If yes, you can make the best use of it by writing articles or blogs on topics related to your area of expertise. One great advantage of writing for your website is that you can build a position of authority in your field and gain recognition for enhancing your knowledge and experience with respect to the topics you cover in your website.
When writing for the web, people who own a website are often confused on how to write for the web users and what style of writing to adapt. Well, don't panic, this article has come up with some simple tips that will help you while writing an article or blog for your website. Here are the tips that can help you.
Keep it simple, specific and clear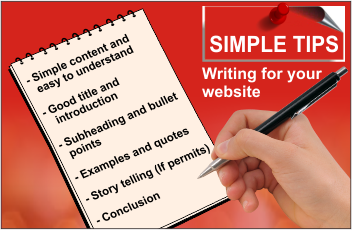 To communicate well with your audience, you need to write in a way that even a 6th or 7th grade student is able to read your content with ease. Each piece of content should be written in a simple language, specific to the topic, clear and easy to understand, but at the same time, it should be informative and appealing in nature. You also need to focus on quality and quantity in your writing for the success of your site.
Start with a good title and introduction
When writing a title for your article or blog make it clear and concise. Give a good title that makes it easy for your audience to know what the article or blog is all about. You should be able to convey the whole message in your title.
The first three lines of your content are very crucial; make sure you put the most important information in the introduction. Dull and boring introduction will not capture your audience's interest. A good and interesting introduction will give your audience a reason to read your content to the end.
Use sub-headings and bullet points
Use of sub-headings and bullet points in your article or blog is very important because it breaks up the content and makes it easier for the reader to read, understand and helps get your message across. Online users are very impatient, they don't read the entire content; they simply scan. So having good sub-headings and bullet points will catch the attention of the reader and will make it easier of them to scan at a glance.
Give examples and quotes
To explain and illustrate your point clearly while writing an article or blog, a better way is to give examples and quotes, if possible. Quotes are a great way to bring a thought or idea in a concise way, whereas examples help the readers to further understand your ideas and support your argument.
If article permits, tell a story
When writing an article or blog for your website, if you think adding a story in the content will help the readers better understand your article and the story suits the content, then you should add the story to your article or blog. It also helps you in conveying your message in a narrative form.
Writing conclusion
The conclusion of an article or blog is as important as the introduction itself, capture the most important points in the conclusion, as it provides a thoughtful end to a piece of writing. The conclusion can also end with a quotation, thought provoking question or a suggestion for change, based on the situation of your article.
Follow these simple steps and you will surely be writing great articles. You can also share some of your article writing tips and ideas with us in the comment box below.
You may also like to read: