Date Published: 4-Jul-2013 | Author: Kerry K Robinson
The Internet is one such place where you get extensive amount of information on any given topic. But what sort of content/articles really interests your readers, is what you need to focus on to create good articles for your website.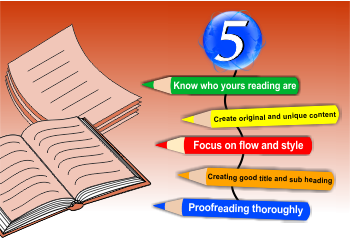 If you want your readers to stay on your site for a longer time, you need to keep few things in mind while writing your article. Here, we discuss the five key ingredients that can make a good article for the web.
1. Know who your readers are
When you start writing an article, first ask yourself these questions who the targeted readers are, what information they want and in which way the article is going to benefit them? Keeping these things in mind will help you create an article that is really helpful to your target audiences.
2. Create original and unique content
Due to lack of time or resources, some website owners tend to copy content from other websites and post it in their website. It makes their job easy, but it is not a good practice. You are not adding any value by doing so. Your visitors come to you to learn from your expertise, opinion and your judgment.
You will definitely disappoint them by copying and pasting content from other sites. It reduces your credibility; even search engines penalize sites with copied content. So, make sure your content is original, unique and relevant. By doing so, you will win your audience's trust as a reliable source of information.
3. Focus on flow and style
After you know who your readers are and the importance of original content, the next thing that you need to take care while writing an article is the structure, style and flow of the article.
Structure the article properly by clearly differentiating the introduction, body of the article and the conclusion. Also make sure that you don't put big chunks of content. Break big paragraphs into small ones. Then comes the flow, there should be a linkage from one sentence to another and from one paragraph to another. This helps the visitor to continue to read your article from the beginning to the end.
Every writer has his/her own style of writing. One differs from other, but while writing for the web it is always better to keep it simple.
4. Creating good title and sub-headings
Having good titles and sub-headings will make the content more interesting and engaging to readers, because they are the ones that grab the attention of the reader. Studies have shown that 80% of web readers read titles and sub-headings and then decide whether or not to read the entire article.
5. Proofread thoroughly
Now that you have created the article, it's time to proofread it. Proofreading involves checking for errors in grammar, word order, spelling, punctuation and consistency in use of capital letters, size and style of fonts, formatting, etc. Make sure you proofread the article thoroughly. You can also edit the article by removing any unnecessary sentences to make it crisp and clear.
Using these five ingredients will help you create a good article for your readers. It will not only leave the reader with nice experience, but will also allow you gain more readership within short period of time. Good luck!

You may also like to read: