Date Published: 8-Feb-2013 | By: Nancy R Jones
The fact that you are reading this article shows you understand the importance of business blogging as a marketing tool to promote your business. You also may be aware of the fact that almost everyone in today's business world is expanding their online presence using blog in their websites. Many consider it as a powerful tool to create effective relationships with existing and potential customers.
Since we are on the topic, let us quickly see why they consider blogging as an important marketing tool before we get into the main topic.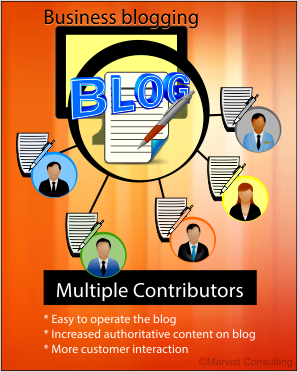 Though blogging started at a personal level, where individuals used to share their personal experiences and daily events (they do it even today) with others, it didn't take much time for businesses to understand the importance of having their own blog to stay in touch with others – customers, clients and even vendors. It became one of the important tools to interact with clients and provide them a personal experience.
Businesses understood that by providing informative and authoritative content related to their industry, and by communicating the value of their products and services, they can set themselves apart from their competitors as experts in the industry.
They also know that search engines like blogs as they have fresh, relevant and informative content and give good rankings, which will enhance brand awareness.
Coming back to our main topic, so, why is it necessary to have multiple writers for your blog? Here are a few benefits:
Operating a blog on your own takes a lot of time and energy
Many people assume blogging is easy and often one-man thing. This is one of the biggest business blogging mistakes people make. You may be an active contributor to your blog, but creating steady flow of fresh and remarkable content is not an easy job. In the initial days, you may find it exciting to create articles or updates, but as time passes, it may become difficult, as maintaining a blog requires consistent effort and above all your valuable time.
You are not an expert on everything in your field
Don't get offended by this statement. To make an effective blog, you need to cover all the essential topics related to your business/industry. You may not be able to cover everything and come up with new ideas every now and then. You may lose potential customers if you miss out on some things which your clients are looking for.
To avoid such instances, you can take help of your employees, colleagues or guest writers who are technically (industry specific) sound. They can plug the gaps with the required content. This not only helps you to maintain a complete blog but also keeps your customers updated with latest information as well.
People often appreciate and share the content that is specific to a given topic. Writing these posts on a variety of topics regularly (even from your industry) is quite challenging. It is always better to take help of the experts in the specific topic to write. It is okay even if the subject matter expert is not good in English or communication. You can refine and make content more appealing using good language – after all it is quality inputs that you require.
Customer interaction
Every write-up in your blog is a gateway for people to visit your website. An effectively constructed blog with a comprehensive series of good write-ups attracts more audience. It not only brings in more traffic but also enables them to interact with you. Multiple bloggers can offer different perspectives and make the same topic clearer and interesting – this encourages audience to read and clarify doubts if they have any.
More contributors, more content
A recent survey by HubSpot states that companies that write more than 20 blogs a month are more likely to see more return on traffic and leads. If this is the case, why don't you get those many blogs organized? Creating all of them on your own is really a hectic task – it's worse to do every month. Take help of people to get articles for your blog – more contributors means more content.
One more benefit of having more than one contributor is that you can ask your colleagues to review, validate the data (if any) and proof articles so that they are perfect before they get posted. Remember, not only quantity, quality of the article is also a consideration in search engine rankings. Needless to say, you will lose your credibility among your audience if your articles have trivial mistakes like spelling, grammar or sentence structuring errors.
Having a good blog with contributions of multiple bloggers thus adds value to your website, builds credibility of your business, helps get better search rankings, and attracts more quality traffic to your website.

You may also like to read: