Date Published: 5-Aug-2013 | Author: Nancy R Jones
Backlinks that point to your website play an integral role in ranking your website in search engines. Having backlinks from relevant, credible and authoritative websites is really a value addition to your website. By having a good backlink profile to your website, it is likely to receive more visitors.
In this article we will discuss about seven key elements of a good backlink profile of a website
1. Quality
Earlier, people used to focus on quantity, not on quality. This used to ensure rankings in the past. But today, the scenario has changed and these techniques do not work – Thanks to the recent algorithm updates. It is however better to have a few links from relevant authoritative and relevant sites than having hundreds of backlinks from low quality sites.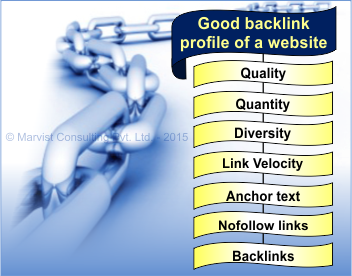 2. Relevancy and Quantity
See that your website gains links from websites that are related to your niche. Here is an example to help you understand better. If yours is an automotive site and you sell automotive products, then links from sites that are related to automotive industry are good, rather than links coming from a gardening or home improvement site that is not related to your industry. The more links from relevant sites, the better it is for search engine rankings.
3. Diversity
It is good if a website has backlinks from different sources like directories, articles, press releases, forums, etc. Your focus should be on earning a wide variety of backlinks from different relevant sites. When a website has links from various websites related to their niche, search engines will consider that the site is a credible one. Diversity in links is very important.
4. Continuous Link Velocity
The volume of the backlinks gained should be consistent or grow over a period of time. Building unreasonable number of links within a short period indicates unnatural activity. It is not an issue if the links are gained genuinely. But, unnatural spike in the links may make search engines peep through your website and take manual action. For more information on consistent link velocity, please read our article 'Gain Credibility to Your Website Using Consistent Link Velocity'
5. Wide variety of anchor text terms
While promoting the website, using only money keywords (the keywords which targeted audiences use to find the products or services) may not be helpful. The prime purpose of website promotion is to generate traffic to the website. So, create informative and educational content to promote your website and use a wide variety of anchor text terms in it. It is also a good practice to use company's name as anchor text. It builds your brand reputation online.
6. Nofollow links
Another key element of good backlink profile is having nofollow links. Do not just ignore nofollow links because they are not passing any link juice (sharing the page rank). Accept every link you deserve, because nofollow links are also helpful in bringing in direct highly targeted traffic to the website.
7. Backlinks to all pages of the website
Every page of the website is important and they need to have their own importance. All the pages of the website should have some backlinks targeted to them with page specific keywords. It is better not to direct all the traffic to only one single page of the website (Most commonly many websites will target the backlinks to their homepage).
In conclusion, search engines will monitor the backlink profile of your sites to rank, and if they figure out that your website has relevant, quality backlinks, your websites ranking will improve over time. Make sure that you monitor these seven elements of a good backlink profile for your website in order to rank high in search engines. All the best.

You may also like to read: