Date Published: 16-Sept-2013 | By: Nancy R Jones
Earlier optimization of keywords in titles, meta tags and building links fetched top rankings in the Google search engine result pages (SERPs). But, now the scenario has completely changed. Google has become more user conscious and focusing more on user experience and quality of the sites to rank the site high in search results.
Google algorithm changes
Panda updates
Google has rolled out two major algorithms, 'Panda' and 'Penguin' to filter the low quality sites. Panda algorithm that got rolled out in February 2011, affected 12% of search queries hitting severely the low quality sites – sites that copied content from other websites and sites that are not relevant and useful to online users. At the same time, Google provided better rankings for good-quality sites — sites that have original content and provide useful information to its users. Till now, about 26 panda updates have been rolled out and Google integrated it into normal Google indexes process (no announcements of updates. They will be rolling out every month by default).
Penguin updates
Penguin algorithm that got rolled out in April, 2012 almost shook SEO industry. Penguin is another step by Google to reward high quality websites. It targeted sites that violate the Google Webmaster Guidelines and use black hat SEO techniques, such as keyword stuffing, cloaking, duplicate content, participating in link schemes, etc., and simply lowered the rankings of sites that use the above techniques. Later, Penguin 2.0 rolled out in May 2013, to penalize the websites that used manipulative techniques to achieve high rankings.
In simple terms, Panda's intention was to filter low quality sites from good ones and Penguin tried to further refine the process of ranking sites (best from the better websites).
Apart from Panda and Penguin, there are other unannounced algorithm updates like
Attribution update – Websites with copied content or less original content are affected.
Freshness update – Websites with up-to-date information like news, events, activity, and fresh content are rewarded.
Ads above fold – Websites with more ad-to-content ratio above the fold are affected.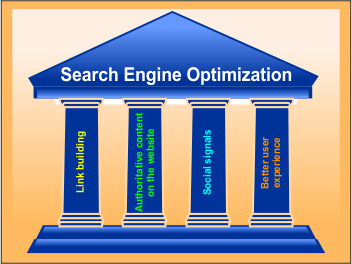 Four pillars of SEO
Experts say that Google uses more than 200 ranking factors, including content, social signals, user experience, trust on the website and many more to rank a website. All these factors can be segregated into four main categories or what we call as four pillars of SEO.
Link building: A site with more number of links would rank well in SERP in the past; but in the current scenario, it is not the case. It is not just building links to your website, but building more natural links. A natural link building for a site includes exact match keywords, branded anchor text, domain name, no follow links, etc.
Authoritative content on the website: The web pages should have useful content that is fresh, helpful and informational. Having authoritative and quality content is important for engaging users. Website should have well written content with keywords in page and paragraph headings.
Social signals: Social signals (or social media signals) play a significant role in building credibility of your website. The better and valuable your information is, the more it is shared and liked among users. Google considers sites with more social credential as trustworthy sites and gives them prominence.
Better user experience: Today, Google is mainly focusing on user experience. User experience is one of the major ranking factors in the present scenario, and Google is rewarding sites with better user experience. Factors that are considered by Google for good user experience include good layout site structure, loading speed, good content that engages visitors and website that is easy to navigate.
Google strongly recommends creating the websites/pages primarily for users, not for search engines. Google has been providing 'Webmaster Guidelines' that help webmasters to create quality websites. So, if you want your site to rank high in Google, then you need to adapt to the changed algorithms and create a quality website.
You may also like to read: