Date Published: 6-Jul-2013 | By: Kerry K Robinson
Created a piece of online content for your business? Well done. But before you go to make it live on your website, pause for a while. You need to proofread it thoroughly. Proofreading is essential. You might have taken painstaking efforts in writing it. It is therefore, important to proofread. Otherwise, your very effort to create good content goes in vain. But you need to take care of certain things when proofreading Web content. In order to proofread your Web content thoroughly, follow these simple tips.
Physical copy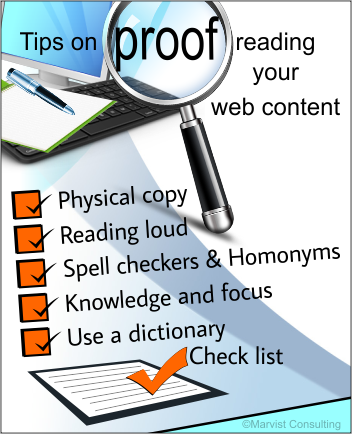 Once you close the piece of content, on your computer, obtain a printed copy and review it. We recommend you to get a physical copy as it helps you focus, which is difficult when you do on computer. Reading from a computer screen is painful for your eyes and you may miss some errors. It is also 25% slower than the work done on a physical copy.
Reading loud
Read the content to yourself loud. You could also ask someone else to read it. Make sure to pause as you read or get it read. Reading with such pauses, helps you spot the errors and correct them.
Spell checkers and Homonyms
For accuracy, you could use spell checkers available online. But take caution. Such applications are not absolutely dependable, especially in case of homonyms; for example, too, to, two; here, hear, etc. Spell checkers cannot ensure meaningful use of these words. It is, therefore, important to use your faculty with a focused attention. This cannot be done by using any of the spell checkers.
Knowledge and focus
To perform optimally at the job of a proofreader, you need to have an excellent command on English whether it is US English, or any other English, combined with a knack to spot the difference. Simply put, you need to have attention to detail.
Develop good grammar skills by reading good grammar books. Cultivate a habit of extensive and intensive reading in your niche. This will help you improve not only the relevant knowledge but English skills as well.
The ability to focus on greater detail is innate and you need to improve it, which helps you perform with great skill. Check accuracy of each word, sentence and paragraph.
Use a dictionary
When you want use a dictionary, use a good one. Use one with having multiple explanations for meaning with parts of speech. This helps you know different forms of a word. Good dictionary skills help you use the proper part of speech of a word. As you frequently refer to the dictionary, you will improve your vocabulary and learn the correct usage of the same.
Check list
To make the proofread copy foolproof, compile a check list. Look for commonly made mistakes – mistakes in spelling, subject-verb agreement, use of punctuation such as apostrophe, comma, etc. Track the frequently occurring ones, and try to avoid them.
Proofreading involves the final stage of content creating process. If you ignore it, you cannot help committing blunders, which might cause irreparable damage to you and your business' repute.

You may also like to read: