Date Published: 9-Jan-2014 | By: Shane K Morgan
"Websites should be designed or optimized for users, not for search engines"
Search is evolving every day. Experts in SEO industry say 'the only thing that is constant in search is change'. Search engines are frequently rolling out updates and making changes to their algorithms with an intention to provide better results to their users. They are rewarding those websites that are customer-centric. In this changing scenario, what is required to rank today is a new paradigm.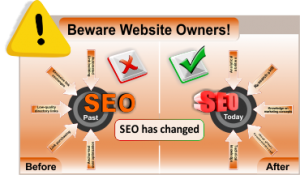 End of campaign-styled SEO
Gone are the days when building links in volume would fetch you better rankings. Such tactics are clearly considered spam today. Even all the factors of campaign-style SEO (what many companies were doing) like low quality link building, forums, postings, comments, etc are being treated as spam. It is counter-productive now i.e, it can kill your website and business. In such situations, many business and website owners are confused about what could get them long lasting results and least susceptible to future changes of search engines.
SEO industry today
Search Engine Optimization has become a multidisciplinary skill now. It would better make sense if we call it 'Digital Marketing Optimization' than 'Search Engine Optimization'. This is because websites have to be optimized by keeping users in mind, not just to rank well in search engines. It is a combination of technology and marketing. It requires many skills like technical knowledge, good written communication skills, knowledge on marketing concepts, research skills and analytical and critical thinking abilities.
For example, A website developer/designer alone cannot do SEO. He can write a code using technology platforms, but cannot analyze the website using Google Analytics and figure out what is happening and what to do to make the website rank. He may be able to make the website aesthetically appealing but may struggle to make it user and search engine friendly. Simply put, the website should first be able to rank in first page and convert the visitors into paying customers.
Be aware of the situation
What is required today to rank well on search engines is a new paradigm. A totally different way of doing work. In fact, some SEO companies like Marvist did, but could not bill for it. In a way, there was always a cheaper alternative that did only SEO and charged lower and got more business.
Some sensible clients were there who understood that it was not only the traffic that mattered but also the conversions to ensure you have a superior product and serve the client well. But such clients were exceptions and those who are surviving in SEO today, are those who make deliberate efforts to work with such clients.
For those clients who chose vendors on the basis of cheapest cost and not being interested in genuine 'marketing' suffered. Surely, many websites are regretting their decision to go with low-end SEO providers who did a lot for low fees. Not only have they lost traffic, they now need to clean up all the 'junk' or now so called 'SEO Spam' done by other SEO companies. Building it was easy and, therefore, was cheap. But, cleaning it up is painstaking and expensive. Due to so many companies wanting this service, there is a shortage of resources who can do this.
Clearly SEO done the old ways is dead. You may have some resistance in adapting to the change and hesitate to switch your SEO provider. But, if you don't do it now, it would become more worse. As Charles F.Kettering, an American inventor says, 'The world hates change, yet it is the only thing that has brought progress'.
So, think wisely before outsourcing your SEO services and opt for a professional SEO service provider who is likely to improve your visibility on search engines, and helps your business achieve positive results by generating leads.

You may also like to read: