Date Published: 10-Mar-2014 | By: Nancy R Jones
Regularly writing new content for your business blog is essential. If you are already doing so you understand the time and effort it requires to continuously doing it. But, your work is not done by just publishing content in your business blog; you need to add value to your content to take your blog to the next level. The following tips will help guiding you when writing content for your business blog.
Promote your write-up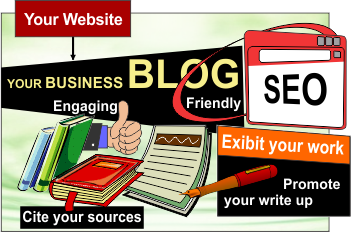 Great content is not really great if nobody knows about it. Just writing, editing and publishing articles in your business blog is not enough; you need to promote them so that more and more people read it. For that you need to share your content on social media sites like Facebook, Twitter, Google+, etc. Make it a point to share new write-ups on your social media profile, so that your followers become aware of the new write-ups. Make sure the layout of your blog prominently displays the share buttons of Facebook, Twitter, Google+1, etc. Additionally, quality blog posts build your authority in your industry and gets people to promote your business for you.
Make your blog posts search engine friendly
Another important factor to keep in mind while writing articles for your business blog is, don't forget to include title tags and meta descriptions that are optimized. Title tags are one of the most important on-page ranking factors used by search engines, whereas the purpose of meta description is to provide a brief and concise summary of your blog post. Include a compelling call-to-action in the meta description. Also, optimize keywords properly in the title tag and in the meta description tags, as it plays as important role in rankings.
Make your blog posts more engaging
The idea of writing articles for your business blog is to attract and retain customers by creating valuable and relevant content that is engaging. When your audiences like your article, they tend to leave a comment and wait for your response. When they see you replying to comments, they are more likely to engage with the post. So, take time to respond to comments on your blog posts, because this shows you care for your audience and it builds relationship between you and your audience. Additionally, ending a blog post with a question is a great way to get readers leave a comment and become engaged in your post.
Exhibit your previous work
When you write a new article for your business blog or even if it is an older article make sure you include hyperlinks to related articles, intext links and links to previous and related articles. This gives readers access to your previous or related articles. One important thing to remember while giving hyperlinks and intext links is, don't overdo it and make sure you give links that are appropriate.
Cite your sources
At times, while writing an article, you may have to do some research, collect data and, then write the article. If you have used data from one or various resources, it is good to give reference links to the websites from where you have taken the data from. By doing so, it allows your readers to validate the credentials of the data sources you have used to substantiate your view point.
Hope these tips will help you in writing content for your business blog in a better way.

You may also like to read: